Mouthwatering red enchiladas from scratch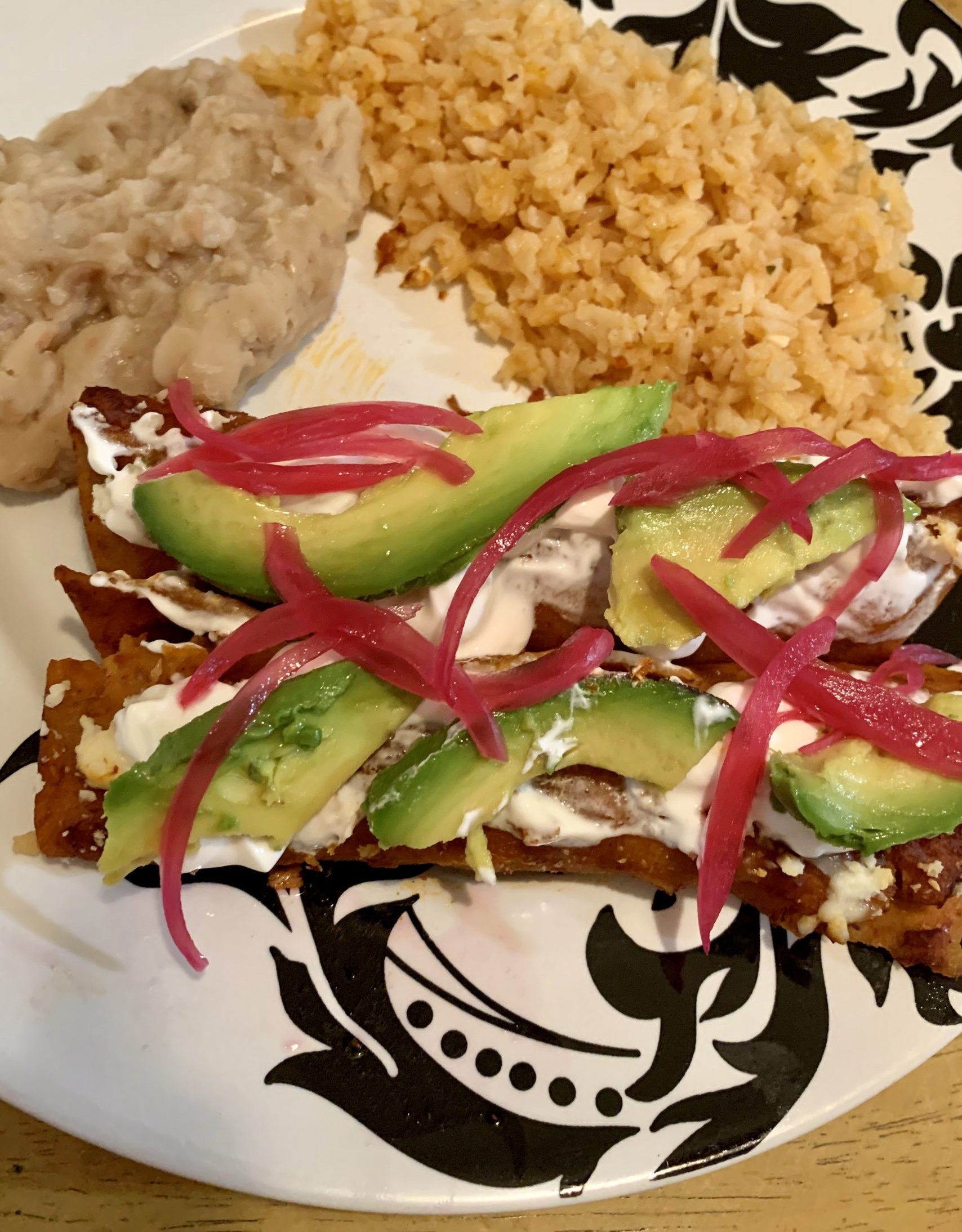 In honor of Mexican independence day, I made red enchiladas for dinner tonight. Enchilada sauce from scratch! Heyyy! 🙂
Everyone in my family loves them and they are so forgiving and so versatile. They can be filled with shredded chicken, shredded beef, chorizo, or just cheese. Those are the most popular served at restaurants but basically anything you like can go inside an enchilada. You can put refried beans or whole beans, potatoes O'Brien, shredded carnitas, etc., you get it right? 🙂
Enchiladas are a staple in Mexican cuisine. They date back to as early as the preclassical period, so one could say they are as Mexican as it gets. The Aztecs were the first to come up with this delicious dish and its "Nahuatl" name is chillapizzali which translates to "chilli-flute." Now, you may say that you do not like spicy food or you may not handle it but, you can make it spicy or not. It just depends on what chilies you use to make the chili paste with. The fun thing about enchiladas is that you can make them your "own," as I did with this recipe I am going to share with you. I will just give you the recipe of how to make the chili paste because I do not like the one they sell canned at the store. In fact when you try this one you may not go back (depending on if you have time to make it or just use the canned one) to the canned one. You can make a lot and freeze it so when you want enchiladas again you will just heat it up and that cuts the time off of making these yummy enchiladas.
This recipe for chilli paste is enough for about 17 enchiladas:
7 chile pods (New Mexico, California or Guajillo) Either of these chillis or a combination of them works. The important thing is that they are a red color.
3 garlic cloves
⅛ tsp of cumin (you can adjust this to taste)
Salt and pepper to taste
You will get the dry chile pods and make a cut in them in order to get the seeds out, if they have a stem, take it out too. Once you take the seeds and stem out you will put them in a small pot with the ½ cup of water to boil with the garlic cloves. Let them boil for 15 minutes. Once they boiled for 15 minutes you can take the chile pods and garlic and put them in a blender. Add half of the boiled water, cumin, salt, and pepper. Blend away until you see it like a pasty sauce. You may need to add more of the boiled water. The consistency you want is that of a pasty sauce. Not too thick and not too watery. This has to be able to coat the tortilla. Transfer the sauce to a pan with a tablespoon of hot oil so the sauce can be sautéed for 3 minutes. So that is the red sauce for the enchiladas. It is very easy to make and so much tastier than the canned one. Also, this is not a spicy sauce. If you want some spiciness, add some chile de arbol dry chile pods. I just add spicy salsa to my enchilada plate if I want it spicy.
I had some leftover rotisserie chicken so I shredded it and put some salt, pepper, a little garlic powder, and sauteé it with some oil. Next, you will have a pan with hot oil ready to dip the tortillas in so they can soften. I have tried without dipping in hot oil, just microwave them inside a bag to soften BUT they start breaking as I roll so oil it is… I do this with all the tortillas and put them on a plate. After I have all the tortillas I will need, I start dipping them in the chilli sauce and stuff them with the chicken I previously sauteéd. Roll them and put them in an ovenproof container. Sprinkle some melty cheese like monterrey jack or colby. Put them in the oven just until the cheese melts and that is it! My grandma and many people out there dip the tortillas first in the sauce and then in the hot oil. However, that makes a lot more mess because the moment you put the sauce dipped tortilla in the hot oil, the oil jumps everywhere. So for the sake of me not burning and not having a greater mess to clean, I do hot oil first to soften and then dip in the sauce.
I like to top mine with cotija cheese too, some sour cream, pickled onions, and avocado!
Yumm!
I hope you like this recipe and if you do, leave a comment saying it so or otherwise, also let me know if you want any other Mexican recipe, I might know it and post it for you!